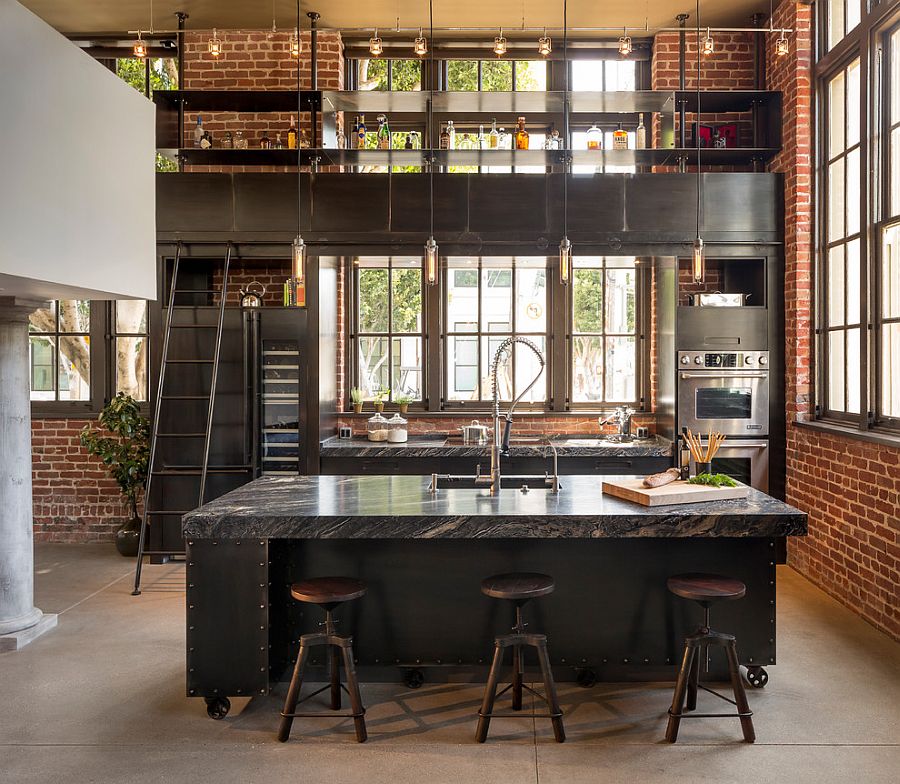 The flooring in a kitchen needs to withstand far more punishment than in the vast majority of rooms in the rest of the home. The heavy traffic created by the constant coming and going of people, hours walking back and forth between cupboards, stoves and the fridge, it can take a heavy toll over time, so flooring needs to be hard-wearing. It should be able to withstand high temperatures, and provide a non-slip surface for the safety of the people in your household.
To make a decision you may want to take a leaf out of a commercial kitchens book, demand for hard wearing, non-slip and inexpensive flooring is prevalent in restaurants and cafes up and down the country.
There are four commercial floor types currently being used by busy restaurant kitchens, and choosing the right one for your own kitchen requires a little knowledge of what each one can deliver, as well as expert advice from a kitchen specialist.
Vinyl commercial flooring
One of the most common types of safety flooring in commercial kitchens is made from vinyl. Strong, hard-wearing and low-maintenance, it is a relatively cost-effective solution for creating a safe working environment. Vinyl is soft and pliable, so it is easier on the feet of kitchen staff, and it takes on the properties of the underlying floor. There is also the option of adding soft underlay to further increase comfort for hard-working chefs.
Vinyl is usually bought in sheets or tiles, but most kitchen managers prefer to install sheets to minimise the number of joins required. Modern vinyl is resistant to extremely high temperatures, and it is completely impervious to water. Although it may not look as attractive as the other types of kitchen flooring available, it is by far the cheapest.
Ceramic tiles
Ceramic tiles are resistant to stains, intense heat and water, which makes them an ideal choice for commercial kitchens. They are usually more expensive than vinyl, but they create an interesting aesthetic that could be very important if your kitchen is on view to the public. They are created in huge kilns that are capable of reaching incredibly high temperatures – a process that creates a hard, water-tight surface that looks fantastic. Commercial ceramic tiles are usually treated with a glass glaze to give them added durability and a range of attractive design features. A kitchen floor with decorative ceramic tiles – treated with glass glazing – delivers vital safety and hygiene benefits and a stunning aesthetic.
Stone tiles
There are several types of natural stone tile on the market, and each of them delivers a unique aesthetic that can become an integral part of an open kitchen's design. Stone tiles for a kitchen need to be relatively abrasive in order to prevent slipping. Some stone tiles are brushed or clefted in order to provide extra traction for feet. Slate and granite are popular choices, as they are highly resistant to staining and water whilst being incredibly easy to clean. Natural stone tiles are usually very expensive, however.
Brick pavers
If you want to add some rich colours and textures to your kitchen, brick pavers may be the best option. They are particularly popular in cafes and delis – where the general public can see right into the food preparation area. Pavers can be fitted throughout an entire establishment and along walls to create a homely atmosphere, yet they are durable and highly resistant to heat and staining. Brick pavers must be sealed, however, as they are susceptible to moisture in their natural state. It is also possible to add a wax coating for extra protection.
Why stop at flooring? Many of us want to bring an element of professionalism into our cooking and get restaurant style quality food in our own homes. A lot of this is done by using the latest gadgets and gizmos to achieve the greatest possible outcome within a budget and normally with limited ingredients but what if this professional element was incorporated into the entire kitchen design from the start?
Looking at not only the flooring but also the structure of a commercial kitchen allows you to analyse the best method for preparing and cooking food that specifically suits you. A lot of work goes into the layout of a professional kitchen to best utilise the time and space available. The layout of your own kitchen is just as important.